Reoccuring events include the Weekly Commander's Drawing. Open to Post 604 members in good standings in the VFW, VFW Auxiliary, and Men's Auxiliary. Next drawing is on April 18, 2018 at 7:00PM and for a dollar you have a chance at $148.00. To get it all, you have to be at the post at the time of the drawing, otherwise you only win 1/2. If you don't sign the list and your number is drawn, yup you win NOTHING.
Our Congratulations to:
Debbie Dammer who played and won $73.00 on April 6th
Sarah Dennison who played and won $880,00 on March 9th
Glenda Parrish who played and won $584.00 on February 9th
Delmar R. Harris who played and won $287.00 on November 10th
Rosalee Anderson who played and won $653.00 on September 15th
Julie Kean who played and won $80.00 on July 14th
Kathy Haney who played and won $850.00 on July 7th
George C. Enochs Jr. who played and won $772.00 on June 30th
Donald E Bruce who played and won $1154.00 on June 2nd
Joyce Grubb who played and won $199.00 on December 16th
Barbara Arwine who played and won $299.00 on December 9th
Toby Oltman who played and won $409.00 on November 25th
Toby Oltman who played and won $430.00 on October 28th
Vickie Butcher who played and won $765.00 on October 21st
Gary L. Wood (Woody) who played and won $1,048.00 on September 16th

PIZZA - A N Y T I M E - come check it out!!!

Hot Dog Mondays served all day.

Dinner Specials on Fridays starting at 1800.

Dinner on Thursdays from 1730-2100, our menu is provided..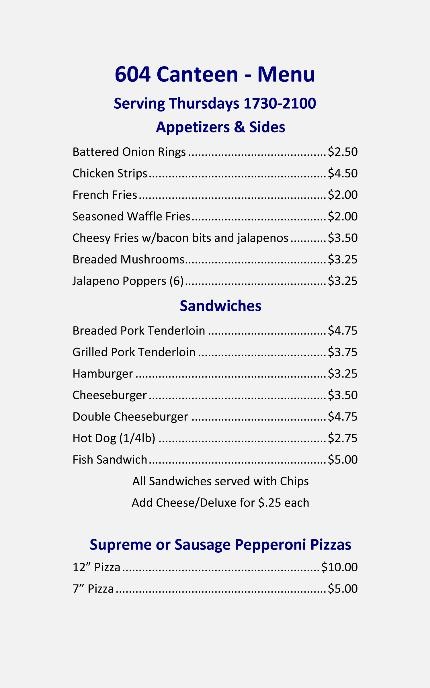 The Bar is open Monday from noon to 10:00PM, Tuesday through Friday 4:00PM until 10:00PM and open on Saturday 10:00AM until 10:00PM.

§ NOW AVAILABLE for hourly RENTAL §
Have need for a location for a private event or party ... ? Rent the 1,200 sq. foot Ground Floor - Optionally may include a dedicated PRIVATE Bar. Contact bartender for information and scheduling availability.

We are continually looking for the opportunity to expand our offerings. Participation is a critical component in these considerations.

Look in the monthly newsletter or coming events for specials and upcoming events. If you cannot find your newsletter you can see it here on our website. We welcome your patronage and thank you for your interest!

Stop by here periodically and look for new offerings at the 604 Canteen...